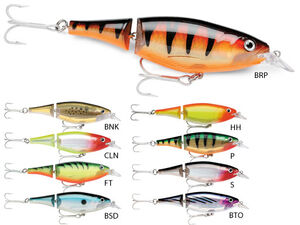 Rapala X-Rap-perheen 13-senttinen korkeaprofiilinen jatkovaappu on hauenkalastajan toiveviehe. Kestävässä muovirungossa on X-Rapeille tyypillinen yksityiskohtainen suomukuviointi. Leveän kyljen suuri hologrammikalvo synnyttää voimakkaita välähdyksiä vaapun uidessa kylkiään reilusti käännellen. Kaksiosainen rakenne ja rungon sisällä olevat kuulat takaavat äänellään, että Rapala X-Rap Jointed Shad ei jää petokaloilta huomaamatta huonoissakaan näkyvyysolosuhteissa.
X-Rap Jointed Shad on kelluva, mutta nousee pysäytyksessä kohti pintaa hyvin hitaasti. Pitkän teräsperukkeen kanssa vaappu jää käytännössä paikalleen, ei nouse kohti pintaa eikä uppoa. Eli on täydellinen viehe kylmän veden hauenkalastukseen. Toisaalta se kestää kovaakin uittoa ja herättää kalojen kiinnostuksen vilkkaalla uintiliikkeellään nopeassa kalastuksessa.
Käytännössä rikkoutumaton rakenne, vahvat renkaat ja meriveden kestävät koukut takaavat, että X-Rap Jointed Shad terrorisoi haukivesissä herkeämättä, kurituksesta huolimatta.
Mallit:
Pituus - Paino - Uintisyvyys
13cm - 46g - 1,2m-2,4m
Ad blocker interference detected!
Wikia is a free-to-use site that makes money from advertising. We have a modified experience for viewers using ad blockers

Wikia is not accessible if you've made further modifications. Remove the custom ad blocker rule(s) and the page will load as expected.